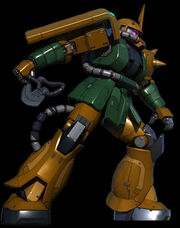 Level Variations
Edit
Level
Bounty

Respawn

Time

HP

Bullet

Resistance

Beam

Resistance

Melee

Resistance

Range

Combat

Power

Melee

Combat

Power

Speed
Boosters

Melee

Slots

Balance

Slots

Ranged

Slots

Rank/Level

Requirment

Rarity

Development Cost

ADV
50
4500
37
37
20
15
53
185
110
0
0
0
Pre-order gift
none
none
1
100
5500
37
45
48
15
66
230
110
17
12
3
Rank 1
none
2
125
6000
40
48
76
15
70
230
112
18
13
4
3
150
6500
42
51
104
15
74
230
114
19
14
5
4
175
7000
45
54
132
15
78
230
116
20
15
6
5
200
7500
48
56
160
15
82
230
118
30
20
7
300 yen
6
Main Weapons
Edit
| English Name | Japanese Name | Projectile type | Comments |
| --- | --- | --- | --- |
| Zaku Machine Gun | | Bullet | Starting Weapon |
| | | | |
Sub-Weapons
Edit
| English Name | Japanese Name | Projectile type | Comments |
| --- | --- | --- | --- |
| Vulcans | | Bullet | |
| Zaku Heat Hawk | | Melee | |
Abilitiies
Edit
| English Name | Japanese Name | Unit level | Effects |
| --- | --- | --- | --- |
Tips and Strategies
Edit
The Zaku II FS is very likely to be the first new Zeon mobile suit acquired, as well as the first melee type. The Zaku FS is likely going to be a very popular suit early on, due to its increased speed over the standard Zaku II, the moderately powerful 3-hit heat hawk combo, and its vulcans being far more effective at shooting down airbourne infantry and Wappas than the standard Zaku II machinegun. However, the vulcans are not as effective as the standard Zaku IIs cracker grenades when it comes to fighting mobile suits or attacking infantry behind cover.
The Zaku II FS suffers from the same weakness as most other melee types, in that it has fairly low armor, and it has to get into very close proximity with the enemy in order to do much damage.
Early on, when most Federation players are using standard GMs/Cannons/Light Armors, a player with a Zaku II FS may be able to easily outperform the standard GM equipped with a machine gun or beam spray gun, as well as stand on fairly equal ground with the Light Armors.
The Cannons, though, despite the Support class suits weakness against Melee class mobile suits, need to be dealt with carefully, as their cannons are not only very effective for long-range sniping, but they can initiate a stun lock as well, and they can easily take out a Zaku II FS before it can even get close enough to do damage. When other players have access to heavier hitting, stun lock inducing weapons like bazookas and cannons, trying to take on a lone enemy can be very difficult without backup.
As an EFF player, if you are dealing with an Zaku II FS, Be aware that they are rather VERY Fragile  until they hit melee range. They also do not have the ability to use bazookas. So take that information in mind and be aware of their movements as most Zaku II FS users will try to spin around you in order to waste time and effortlessly melee you after you try to turn around, so the moment you see an Zaku II FS, Try to tackle them before they can outrun you and melee your back.
Unit Variation
Edit
If there are any information and links goes here