The Ram Z'Gok is a modified version of the Z'Gok. It's design is said to overcome the flaws of the original Z'Gok.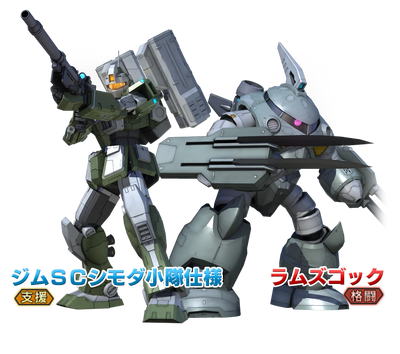 One of the notable flaws of the of the successful amphibious Z'Gok is piercing ships with it claws, but gets stuck altogether in which results in the destruction of both the mobile suit and the pilot. The change of its triple-nail hand to that of a claw shield makes it unlikely to get stuck during combat. And with it speeds up the fire rate of its Mega Particle Cannon.
As for the unit itself, It has lost it's ability to fire missiles from it's head but now has a ramming spike, making it's tackle damage very destructive. It should only be used for a first strike or when the enemy MS is not expecting it. As a Zeon Melee Suit, It's key feature is the new claw shield, with the new claw shield, it has a rather fast melee combo while devastating too. With the new claw shield, it's hands are now free from the open/close triple claw flaw, allowing the Ram Z'gok to fire it's Mega Particle Gun at faster rates. Zeon MS pilots should be wary however, the Ram Z'gok is limited to Two weapons, thus meaning that Zeon MS pilots using the Ram Z'gok should take precautions and use their ammo carefully.
Level Variations
Edit
| | LV1 | LV2 | LV3 |
| --- | --- | --- | --- |
| EXP | 225 | 250 | 275 |
| HP | 8500 | 9000 | 9500 |
| Bullet DEF | 42 | 48 | 54 |
| Beam DEF | 42 | 48 | 54 |
| Melee DEF | 54 | 84 | 115 |
| Range ATK | 8 | 8 | 8 |
| Melee ATK | 79 | 83 | 87 |
| Move Speed | 230 | 230 | 230 |
| Thrusters | 120 | 122 | 124 |
| Rarity | 2-Star | 1-Star | 1-Star |
| Req. Rank | Sergeant 07 | | Ensign 09 |
| Dev. Rate | 20% | 7% | 6% |
| Dev. Cost | 16400P | 22600P | 28500P |
| Respawn Time | | 17 Seconds | 19 Seconds |
| | LV1 | LV2 | LV3 |
| --- | --- | --- | --- |
| Melee | 9 | 10 | 11 |
| Mid | 8 | 9 | 10 |
| Long | 3 | 4 | 5 |
Main Weapons
Edit
| English Name | Japanese Name | Projectile type | Comments |
| --- | --- | --- | --- |
| Mega Particle Cannon | | Beam | |
Sub-Weapons
Edit
| English Name | Japanese Name | Projectile type | Comments |
| --- | --- | --- | --- |
| Claw Shields | | Melee | |
Abilitiies
Edit