This is a variation of the GM Sniper Custom. This variation were built as space assault type mobile suits, so they added two 4-Tube Rocket Launchers in order to shoot down enemy forces. But due to the high cost of production during the late phases of the one year war, only a fe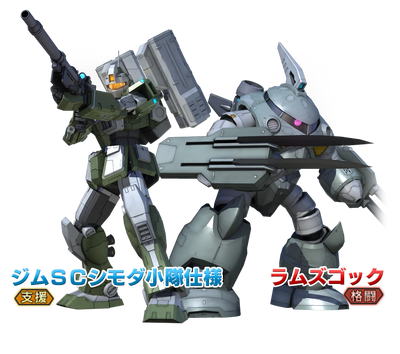 w were ever made. And most are transfered to the Shimoda Squadron.
The GM Sniper Custom: Shimoda Squad Type is like the GM Sniper Custom with the exception of the two 4-Tubed Rocket Launchers, one in each shoulder. With those additions on it's shoulders, it could not equip the hyper bazooka unlike the regular GM Sniper Custom. Because this MS has a high points cost and has no melee to defend itself at close range. The GM Sniper Custom Shimoda Squad Type is a very big target for Zeon Melee Type MS, More Importantly the new Ram Z'Gok and units with stealth on radar like Acguy. However, Because of it's two 4-Tubed Rocket Launchers, ability to support from across the map, and has access to the Double Beam Gun, this unit will become a personal favorite for EFF Pilots who favor the bombarding Supporter.
Level Variations
Edit
| | LV1 | LV2 | LV3 |
| --- | --- | --- | --- |
| Melee | 3 | 4 | 5 |
| Mid | 7 | 8 | 9 |
| Long | 8 | 9 | 10 |
Main Weapons
Edit
| English Name | Japanese Name | Projectile type | Comments |
| --- | --- | --- | --- |
| Sniper Custom Beam Rifle | | Beam | |
| Double Beam Gun | | Beam | |
Sub-Weapons
Edit
| English Name | Japanese Name | Projectile type | Comments |
| --- | --- | --- | --- |
| Wrist-Mounted Beam Saber | | Melee | |
| Head Vulcans | | Bullet | |
| 4-Tube Rocket Launcher | | Ballistic | |